He sang so close you could feel the warmth of his breath in your ear. He whispered the songs in the same living room of your house, there planted so calm. «I've been terribly aloooone and forgotten in Maaanhattan«. A familiar voice like that of a friend who reminded you of old melodies. I sang only for you the eternal Tony Bennett, a crooner to scale human who had a superhuman career, more than 70 years of recordings and concerts, and whispers. This dear companion died this Friday at the age of 96: he had suffered from Alzheimer's since 2016 and for this reason had been forced to retire in 2021.
In the field of crooners there is no debate. Frank Sinatra was the best. In fact, each day that passes is even better. We know that now, but it's important to remember that when Tony Bennett came into the business, in 1950, with great success from his first recordings, Sinatra was already the best. With his white suit, with his blue eyes and with a voice that resounded like the echo of the mountains, that young Sinatra dominated the 40s until he became the Stradivarious of popular song in the USA in the 50s.
Eleven years younger than Sinatra, similarly born on the New York fringes, and exactly the same height and weight, Tony Bennett was his best pupil. A nearby singer enemy of fuss and underlining. Neither he nor he was dramatic in the ballads, his specialty, nor did he go beyond euphoria in the fast and cheerful numbers like champagne bubbles. He glided his baritone along the melody with the movements of a tai chi master, that's how graceful and effortless he was, and he exuded optimism and confidence. He was a friend, geez. He was always welcome.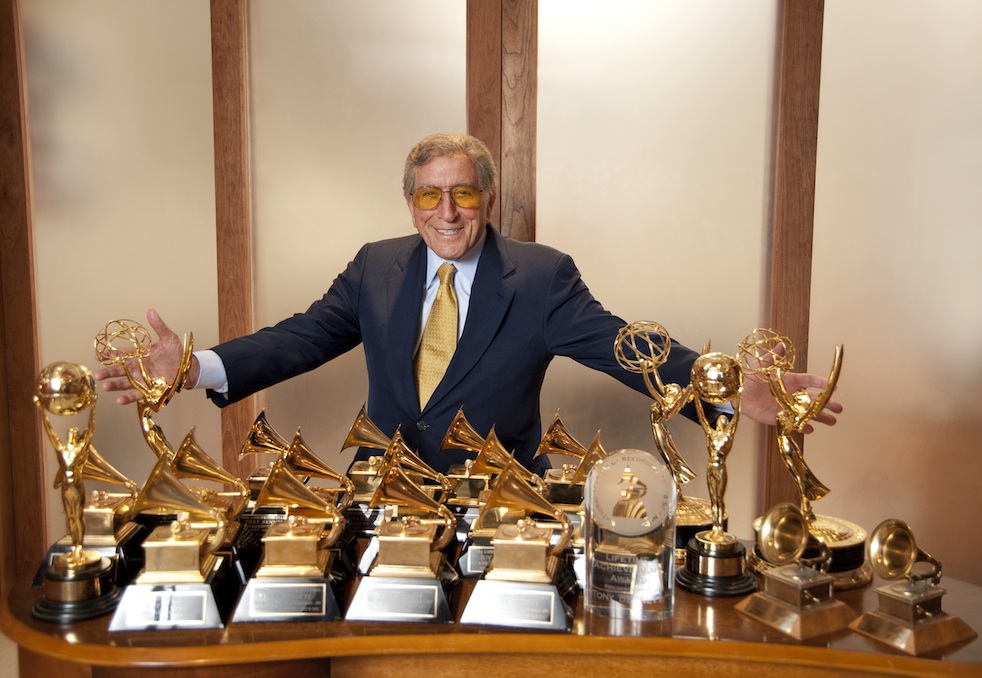 A miserable childhood and a youth built on effort produced a humble and noble boy willing to make whatever sacrifices were necessary to get ahead. The nostalgic heart of him learned to love jazz in the age of swingthe 40s, but it was the crooner pop that his record company asked him to go and he did it with a smile under his hooked nose and without losing his dignity, and whenever he could he jumped into jazz, and between pop and jazz he spent his very long blue velvet career. His greatest hits records contain great examples of both styles, without one overshadowing the other.
his father was a italian grocer who died when the boy was 10 years old. Already then he should have stood out for his voice, because that same year, 1936, the talented boy sang before Mayor Fiorello La Guardia at the inauguration ceremonies of the Triborough Bridge, which connected Manhattan with his neighborhood in Queens, Astoria.
Anthony Dominick Benedetto he entered and left the art school, where he studied music and painting, to work and thus contribute to the support of his mother and brothers. Among other occupations, he was a singing waiter, until the Army summoned him in 1944 to travel to the front of France and Germany, where he would get to participate in the liberation of a Nazi concentration camp.
Five years after returning to New York, his eternal city, he was discovered by a cannonball by the then almighty Bob Hope, who shortened his name to Tonny Bennett and took him on tour. Year 1950. The swing era was languishing and this boy with the voice of a gentleman and classic elegance he convinced Columbia's head scout to hire him. That scout cast a villainous shadow and his name was Mitch Mitchell. He was the same executive who cornered Sinatra with his contempt for jazz until he tore up his Columbia contract to bits (later, in a turn of events that inspired Johnny Fontane's character in the novel The Godfather, La Voz took Sinatrism to the highest levels of excellence in Capitol). The thing is, Mitchell was determined on turn Bennett into the Sinatra who didn't want to be Sinatra, more dynamic, lighter: more pop. A string of cloying hits would prove him right, such as 'The Boulevard of broken hearts', 'Because of you' or the tremendous 'Cold cold heart', re-combed ballads swayed by waves of sentimental violins, his usual accompaniment in that first stage.
Soon Tony Bennett, who was obsessed with Louis Armstrong's vibrato, who hated this new trend of rock & roll, would show his passion for jazz. Thus, in 1957 he began a four-decade relationship with the pianist and arranger Ralph Sharon, his primary musical director, with whom that year he recorded the prodigious 'The beat of my heart' accompanied by a septet that included great jazz players such as Art Blakey, Chico Hamilton, Jo Jones and Herbie Mann; As a complement, in 1958 she made the first of three albums with the big band of Count Basie. What an extraordinary stage.
In 1962 he recorded the biggest hit of his career, an immovable classic in his repertoire ever since and one of the great songs of the 20th century in the US: I left my heart in San Francisco. The rest of the 60s passed between the most personal records of standards in the American songbook and, above all, those that served to lull the listener with versions of Broadway hits and pop phenomena arranged by easy listening. Worthy, in any case.
But the commercial concessions did not remove him from a progressive irrelevance and fueled a disenchantment that culminated in 1972 with the break with Columbia. Reaction: While the world was discovering punk and disco, Tony Bennett was approaching 50 making wonderful jazz records that no one would listen to, one with the Rodgers and Hart songbook and two piano and vocals with Bil Evans. He even founded his own record label, Improv.
While descended towards bankruptcy he filled the void created by the lack of success with cocaine, more and more, until in 1979 his second wife found him on the bathroom floor from an overdose. It was the lowest moment of his life, he would say many times later, but he not only had the opportunity to recover, but to achieve the greatest successes of his career.
It was his son Danny's fault, who that same 1979 he created a representation agency and proposed to revive his father's career. His strategy wasn't to change Tony Bennett, but to change the way everyone perceived him: from leaden geezer to classic cool. In 1986 the album 'The art of excellence' was the lever to start that transition: there is the usual Tony, the one with the ballads, the orchestra packed with violins, jazz, vibrato and whispers. Tirelessly, in '87 he sings Irving Berlin alongside Dizzy Gillespie, George Benson and Dexter Gordon.
Suddenly Tony Bennett was a great guy. She was appearing on the David Letterman Show. He participated as the first real character in 'The Simpsons'. He was recording an MTV "Unplugged" that reached a magnitude 8.8 on the Richter scale of success and won, oh, the Grammy Award for Best Record of the Year.
Since then Tony Bennett's career and life have been a skein of wool that has been developing smoothly. best-selling duet albums, with Lady Gaga as the last and outstanding companion. High-end finery. Orchestras like aircraft carriers. Visits to the White House (he was a Democratic voter). And an immortal classic plant around her smile.
Well, this is the friend who has died. He has accompanied us for more than 70 years singing as if he were in the living room at home. Now we can say that there are only two Sinatras: Sinatra and Tony Bennett.