Italian artist Raffaele Salvoldi creates massive towers out of KAPLA building blocks.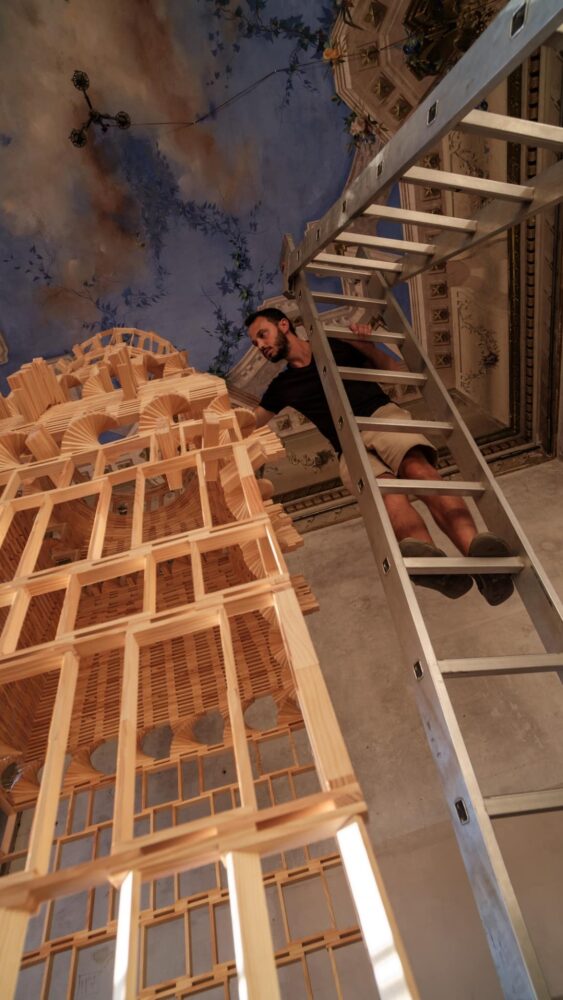 Many of us remember playing with some type of building blocks growing up. While plastic LEGO bricks might be best known, Dutch brand KAPLA has been producing chunky wooden planks since the 1960s.
Italian artist Raffaele Salvoldi began using this nostalgic childhood activity during the COVID-19 pandemic. This hobby quickly blossomed into an ongoing project titled Wood Arc, in which he builds massive towers entirely out of KAPLA blocks.
From afar, these massive structures may appear to be made of woven rattan or a similar process, but are actually the result of Salvoldi's meticulous process. He takes his time adding each individual block to slowly create buildings that spiral, twist, and loom in historic spaces.
It is therefore not surprising that each of these sculptures requires at least three weeks of construction time, sometimes extending to four months depending on the complexity of the design.
Wood Arc is not just about the wooden structures, but also about how these works interact with their surroundings. Salvoldi installs each one in a space full of history and culture.
Europe is rich in places of incredible beauty: palaces, exhibition spaces and historic houses. Some are famous and often used, others are lesser known but are occasionally brought back to life through specific events," she explains.
«The Wood Arc project finds its home in these almost forgotten and enchanting spaces; It comes to life slowly, over two months or more, through the creation of installation art that gradually rises in harmony with the rooms that house it."