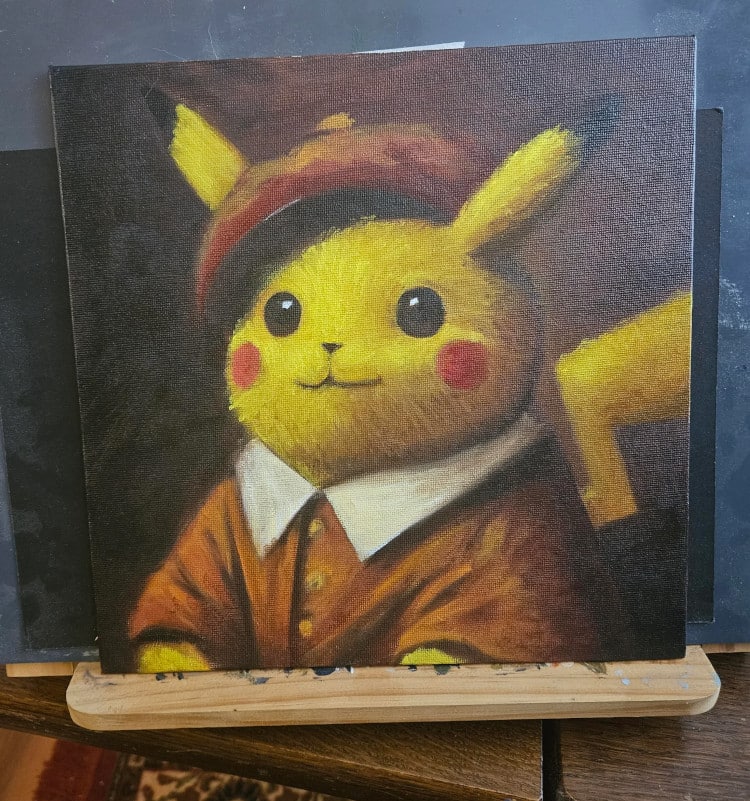 What is the first thing that comes to mind when you think about the Renaissance? Is it Pokémon? Probably not, but a series of paintings by artist Jochum Van der Woude (aka Joccum) could change that.
The Netherlands-based painter has set out to recreate the original 151 Pokémon as Renaissance paintings, and the results are very promising so far.
Van der Woude's ongoing Pokémon oil painting series has now gained him a lot of attention on Reddit, but the entire project actually started by accident.
"It all started when I was painting my second cat in the same style as my previous Cat with a Pearl Earring," he says.
"Then I moved on to Pokémon while I waited for the cat paint to dry."
He first tried painting Pikachu, giving him a red beret and a stylish shirt over his realistic yellow fur.
"While I was making Pikachu and trying to paint Bulbasaur, I thought, 'Man… I should do them all!'" the painter recalls.
He became so devoted to the project that he has joked that he hasn't seen his girlfriend since.
Like many, Van der Woude's love for Pokémon dates back to when he was little.
"The initial attraction to Pokémon was pretty simple: I watched the first episode when it aired as a kid and got hooked on the Game Boy titles," he admits.
They were often the birthday presents I expected."
Given the years he's spent following the franchise, it's hard for him to pick a favorite.
"That's like asking to choose a favorite child," he jokes.
«When I was a child, everything revolved around Articuno and Dragonair. Now, my loyalties are more dispersed, but those two still occupy a special place.
Although Van der Woude had some artistic training in the past, he says most of his development has been self-guided.
"I watched a lot of tutorials on YouTube to learn about oil painting," says the artist. The results are, without a doubt, commendable.
Not only has he given a majestic touch to these creatures, but he has done so by recreating the light, composition and tone of centuries-old works.
The artist shares that each painting takes him around 10 hours to complete, plus an hour for finishing touches like varnishing.
So far, Van der Woude has completed five paintings: Lapras, Chansey and a struggling Psyduck have joined the club.
Confident in his efforts, he describes his journey as going "from an isolated artist to the Picasso of Palet Town."
Overwhelmed by the positive response to his paintings, the artist has created a newsletter to keep those interested in purchasing the original paintings as well as the prints informed.
To keep up to date with his creations, you can also join his painting live streams on Twitch and follow him on Instagram.