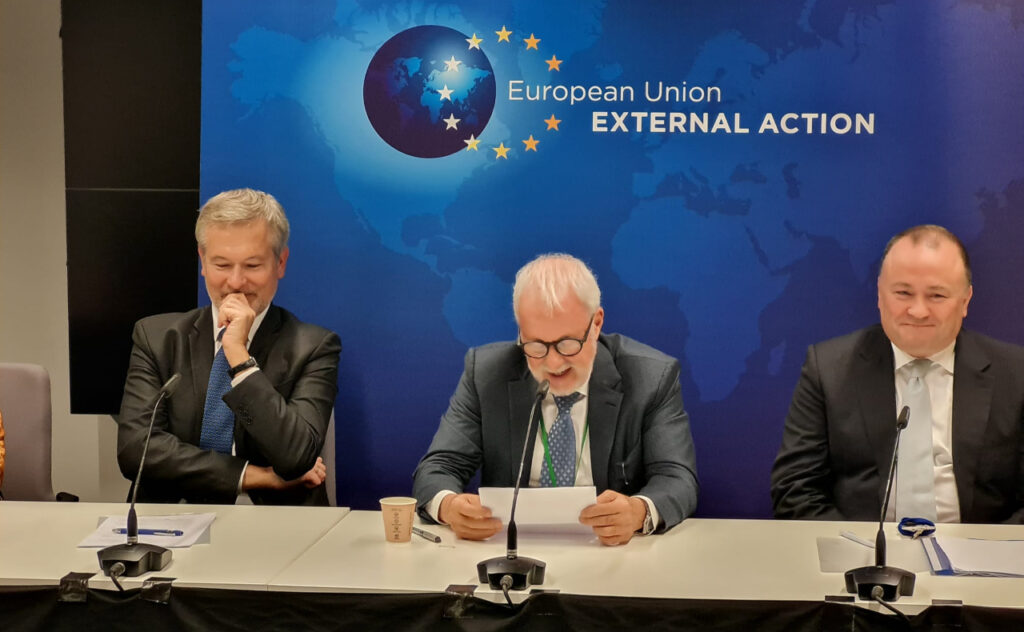 More than 650 writers from 45 countries and 33 languages ​​will participate in the 37th edition of the Guadalajara International Book Fair (FIL), which this year will take place from November 25 to December 3 at Expo Guadalajara, with the European Union plus Ukraine as guest countries of honor.
Considered the largest book fair in the Spanish language and the second largest in the world after Frankfurt, Germany, the FIL Guadalajara presented its literary, academic and cultural program this Monday for the first time in the auditorium of the University of Guadalajara, announcing just over 3 thousand activities that are expected to be attended by at least 800 thousand people.
The participation of established and rising figures in contemporary literature such as Elia Barceló, Elísabet Benavent, Piedad Bonnet, María Dueñas, Morgana Kretzmann, Andrés Neuman, Pascal Quignard, Julia Quinn, Élmer Mendoza, Sergio Ramírez, Angelo Tijssens, Margarita García was announced. Robayo, Antonio Muñoz Molina, Jordi Sierra i Fabra, Tatiana Țîbuleac, Jorge F. Hernández, Elvira Lindo or María José Ferrada.
Among the book presentations will be 'I won't see you die', by Antonio Muñoz Molina; 'Poesía reunida (1977-2023)', by Coral Bracho (winner this year of the FIL Prize for Literature in Romance Languages; 'Extrañas', by Guillermo Arriaga; 'The weight of living on Earth', by David Toscana; 'Me I call a body that is not there', by Cristina Rivera Garza; 'Four summers', by Benito Taibo; 'A Christmas story', by Alejandro Zambra.
Also 'Of all the flowers', by Natalia Lafourcade; 'Against the secret nature of the things of this world', by Patricio Pron; 'The lights of February', by Joana Marcús; 'In the mouth of the wolf', by Elvira Lindo; 'The geniuses', by Jaime Bayly; 'Umbilical', by Andrés Neuman, and 'The Electric Staircase', by Ana García Bergua.
In addition, the University of Guadalajara Publishing House is working on a tribute book that brings together photographs, fragments of texts that Raúl Padilla López wrote, as well as comments from authors and people close to him, which will be presented during a ceremony scheduled in his honor, as reported. Marisol Schulz, director of the FIL.
The rector of the University of Guadalajara anticipated that this year and given the proximity of the federal elections, a highly politicized FIL is expected with the eventual presence of the two presidential candidates Claudia Sheinbaum and Xóchitl Galvez, who, like Governor Enrique Alfaro and President Andrés Manuel López Obrador have been invited, although until this Monday there was no confirmation from any of the four.