One of the hosts of the 'Vivalavi' program broke the news in front of the singer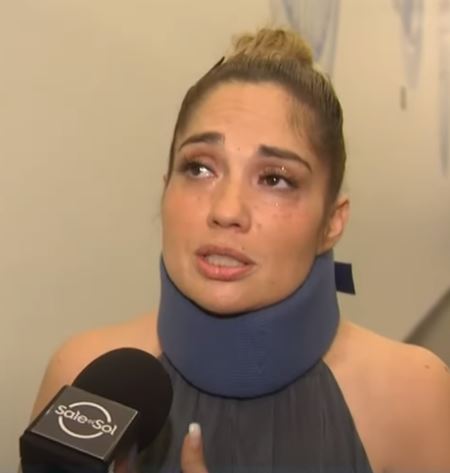 On March 4, Pedro Infante's granddaughter was attacked while giving a presentation at the Iztapalapa mayor's office. After several days of remaining silent, Heidy spoke on the "Vivalavi" program about the case.
The Mexican interpreter appeared in the forum with a neck brace and delicate other parts of her body due to the blows she received; However, that did not stop her from talking about the assault she suffered.
Despite the fact that on March 7 the National Migration Institute confirmed that the Ministry of the Interior launched an immigration alert against Yian 'N' as a preventive measure, it seems that the case could take an unexpected turn.
One of the hosts interrupted the singer for a moment to report on the conference that was allegedly called by the team of her attacker, Yian López, who could legally proceed against Heidy.
"A while ago a press release began to arrive informing us that this gentleman, well, his lawyers summoned a press conference and it is said that there will be legal action against you," explained the television presenter.
The reaction on the part of Pedro Infante's granddaughter was immediate, since she showed confusion on her face, despite the repercussions it may have, Heidy explained that she plans to assume them so that her attacker faces charges.
"Yes, I am afraid, but I am not going to let my guard down and if this man wants to sue me, then he should do it," said Heidy Infante.
Immigration alert issued against singer Heidy Infante's attacker
The National Institute of Migration (INM) of the Ministry of the Interior issued an immigration alert to search for Yian "N", originally from Cuba and Mexican national, who attacked the singer Heidy Infante in a public event in the Iztapalapa mayor's office in the city from Mexico.
In a statement, the INM reported that the Mexico City Attorney General's Office (FGJCDMX) requested the intervention of the INM to locate him for the probable commission of sexual abuse against a singer, granddaughter of Pedro Infante, after he started a research folder.