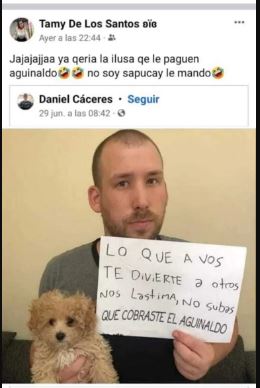 Social networks are characterized by freedom of expression, since we can comment on what we like or dislike and share our interests. A young lady shared a meme on her Facebook account and she never expected the trouble she would face.
Tamara, a young employee, found herself immersed in a controversy after sharing a meme on Facebook related to the payment of the Christmas bonus.
What seemed like a simple joke to her turned into a real nightmare when her superiors noticed the post and made the decision to fire her.
«The truth is that this is anyone, Tamara. Tell me the hours you worked and I'll separate yours, "a man wrote to her on WhatsApp who also sent her a screenshot of her meme. "Anyone who can't laugh or who takes things badly," replied the young woman.
In addition to having suffered an unusual dismissal, the young woman told on her social networks that she tried to contact her former boss to obtain the corresponding settlement, but he nailed her down.
In addition, Tamara decided to share a video on her TikTok account (@tamydelossantos), announcing her intention to reveal how she was fired from the bakery for sharing the meme.
The story of Tamara, a young woman from Buenos Aires, went viral on social networks and hundreds of users supported her, arguing that the comment occurred on her personal account.