Rainn Wilson (Dwight Schrute) rode with a passenger who was watching 'The Office'.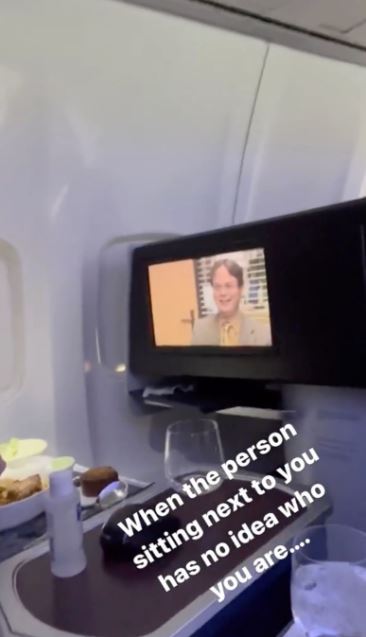 Last March 24 marked the 18th anniversary of the premiere of 'The Office', one of the best sitcoms in history (it is not for nothing that it is on almost all platforms) that since 2005 has given us references, jokes and memorable characters.
One of them, without a doubt, is that of Dwight Schrute (Rainn Wilson). Played by the actor Rainn Wilson, Dwight was one of the most faithful and unconventional employees (so to speak) that we saw pass through the office. from Dunder Mifflin Scranton, where he gave us epic moments within the series.
Whether it was the fire drill and his fight with Andy Bernard over Angela's love; going through his farm / hotel or his advice when doing CPR, Dwight Schrute is one of the top characters that many fans of The Office would like to know.
However, they say that things come when you don't look for them and that was made clear to us by the experience of a passenger who decided to watch 'The Office' during his five-hour flight without imagining that Dwight Schrute himself was sitting next to him.
It was through his Instagram stories where Rainn Wilson showed the video he recorded inside the plane and where we see him with headphones and a face mask with which he hid (not on purpose) his identity from the fan in question.
"Like when the person next to you has no idea who you are," wrote the actor who plays Dwight Schrute and who let us see the other passenger who enjoys the series at lunchtime. Here we leave them in case you haven't seen it:
The video in question was taken by several people and went viral on the internet to the point that it made headlines on portals like CNN.
That caught the attention (more ironically than anything else) of the actor, who uploaded another video to talk about what happened.
"After five hours of watching 'The Office' I finally spoke to him and said 'oh, do you like that show'? while slowly lowering my mask.
And he was like, 'Yeah, I really like him a lot,' said the actor who plays Dwight Schrute in the series.
According to Rainn Wilson's story, the guy on the plane told him that the first season of 'The Office' wasn't that good and that you had to get the hang of the characters.
All this before discovering that he was talking to the very same Dwight Schrute.
"When he recognized me, his head exploded…we had a good laugh, so it was a happy ending," said the 57-year-old actor who will always be remembered, above all else, as Dunder Mifflin's most efficient employee.