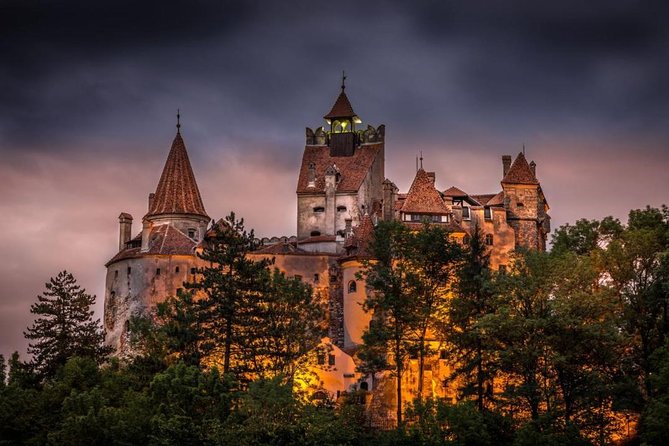 We have fully entered the spooky spirit of the season thanks to the celebration of Halloween and, instead of giving you a summary of a single destination to travel halfway around the world, we have made a selection of some of the places where the most macabre festivities take place. Halloween highlights.
Prepared for the sinister journey?
Whether you like trick-or-treating for the little ones or elaborate costumes, on this journey you will have the choice of how to celebrate the scariest holidays of the year in a very original way.
October means something different to everyone. For you, it might mean going to a friend or family member's Halloween party in your hometown.
Or maybe you like to test new limits and visit some place with legends about witches and ghosts. Regardless of what you prefer, these places are great for a visit this Halloween season.
It's also true that while Europe doesn't celebrate Halloween with the same fanfare as the United States, that doesn't mean the Old Continent, with our long, tempestuous history, terrifying legends, and centuries-old castles, isn't a great place to be this October 31. .
In Europe, Halloween combines colorful folklore with modernity, offering a variety of events and parades, plus the Irish tradition of Jack O'Lantern, iconic Trick-or-Treating, ghost story-telling, and the American custom of pumpkin carving. with sinister shapes.
This holiday represents a good opportunity to travel the world, visit scary places, learn about the cultures and traditions of other nations and, why not, have fun and enjoy local delicacies. Taking all these things into account, in addition to other characteristics such as the weather and the attractions of the place, we present the list of the best Halloween destinations in the world:
If you scare easily but also want to participate in Halloween events, this is your place. You'll find some incredible destinations where you can participate in elaborate costume parties or killer themed events.
If you're up for a unique adventure, don't forget to visit some of the spookiest destinations in the world, perfect for continuing the Halloween spirit.
Los Angeles United States
The West Hollywood Halloween Carnival is considered one of the largest Halloween parties in the world. Through October 31, more than 500,000 people in the craziest and most eccentric costumes fill the streets to enjoy live entertainment, food vendors, and, most of all, people-watching. Stretching over 1.6 kilometers long, it is a renowned street party. It is celebrated on October 31, from 6 to 10:30 pm and is located on Santa Monica Boulevard. The party is free.
Sleepy Hollow, New York, United States
Writer Washington Irving put this small town in Westchester County in the spotlight because of the Headless Horseman. If you like classic places, Sleepy Hollow will be a mandatory stop if you go to the United States. The Great Jack O'Lantern Blaze in Hudson Valley, New York will be the next stop on the way. It's worth the trip. More than 7,000 bright, intricately carved pumpkins representing everything from dinosaurs to the Headless Horseman shine along the riverfront near Van Cortlandt Manor.
Prague, Czech Republic
Prague, Europe's gothic fairy tale, with its stunning architecture, winding medieval streets, macabre corners and mysterious charm, is a place that gives chills whether it's Halloween or not. And although Czechs are not particularly inclined towards this celebration, the city itself seems to have been designed especially for Halloween. It is recommended to visit the spectacular Old Jewish Cemetery, the Torture Museum, the Sedlec Ossuary, the Charles Bridge, with its garden statues, and the charming old town of Prague, the scene of many macabre legends and local stories.
Sighișoara, Transylvania, Romania
What better place to spend Halloween than to go to the birthplace of horror stories and spooky folklore: Transylvania. Famous for its infamous resident Vlad Tepes (also known as Vlad the Impaler, the real Dracula), the small town of Sighisoara is sure to delight you. Every year, it hosts what is probably the best Halloween party in the world. It is a live nighttime dinner where all the guests who attend become part of the spectacle of this chilling event. A live role-playing festival to play a night of the living dead. The combination of traditional Transylvanian cuisine, mixed with ancient folklore, music and the Medieval Citadel of Sighisoara, makes the evening more than exciting.
Derry City, Ireland
Halloween started in Ireland, so it makes sense that for a truly epic Halloween experience, we head to Shamrock Island. For more than a week, the entire city of Derry City becomes a living carnival dedicated to the Halloween festivities. There are dancing, music, carnivals, fireworks, parades, haunted houses, horror film festivals, and even family activities for kids. The Halloween carnival begins on October 25 and lasts until November 2. It is the largest Halloween festival in Europe.
Tokyo Japan
Halloween has become a vibrant and exotic street party in Japan. This country is known for its creative style and October 31 is no exception. Although there are many celebrations, perhaps the most notable is the Kawasaki Halloween Parade. This is a great parade that takes place every last Sunday in October. It is possible to pay an entry fee and participate in it. If you don't feel like it, you can just look at the wide variety of floats and costumes. You can see creatures full of tentacles, zombies bathed in blood… the normal thing for Halloween.