Ángel Gabriel de Ahualulco and América Elizabeth de Soledad, exhibit their works in Mexico City.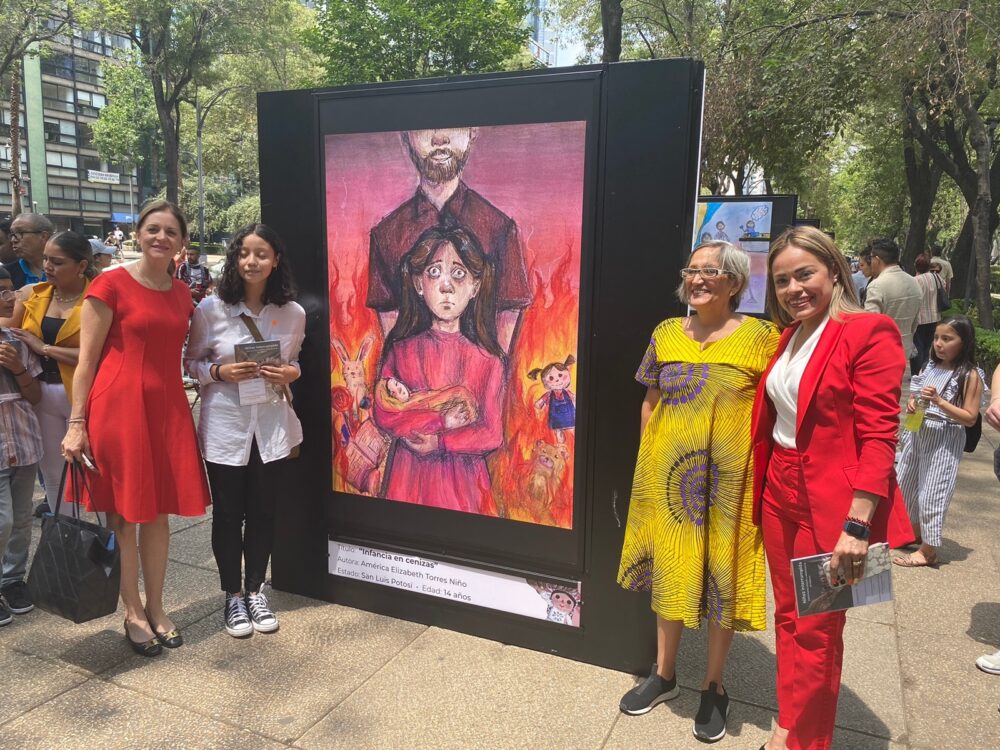 Talent from San Luis Potosí is recognized nationally, with the opening of the Open Gallery on Paseo de la Reforma in Mexico City, where the works of the national stage of the 29th edition of the Children's and Youth Drawing and Painting Contest are exhibited, announced Mayra Edith Velázquez Loera, technical secretary of the State Population Council (Coespo) when attending the opening of the exhibition together with Ángel Gabriel from Ahualulco and América Elizabeth from Soledad, second and third place winners respectively.
The head of Coespo recognized the support of the Governor of San Luis Potosí, Ricardo Gallardo Cardona, to the talent of the Potosinos, and explained that the exhibition of drawings and paintings is called "Interrupted childhood, child and adolescent marriage in Mexico", and seeks to raise awareness and reflect on the rights of children and youth to have a life free of violence and prevent forced marriages in minors.
Velázquez Loera said that Ángel Gabriel, second place in category B, from 10 to 12 years old, from the municipality of Ahualulco, and América Elizabeth, third place in category C, from 13 to 15 years old, from Soledad de Graciano Sánchez, were invited to the inauguration of the exhibition in Mexico City in recognition of his talent, putting San Luis Potosí on the national stage in promoting art and reflecting on demographic phenomena.
The exhibition was inaugurated by the head of the National Population Council (Conapo), Gabriela Rodríguez Ramírez, and the representative of the United Nations Population Fund for Mexico, Alanna Armitage; It will be for two months in the Open Gallery of Paseo de la Reforma and later it will be exhibited in different parts of Mexico.
In San Luis Potosí it will be exhibited in the four regions of the State.