The balloon dog-shaped work by Jeff Koons was on display in Miami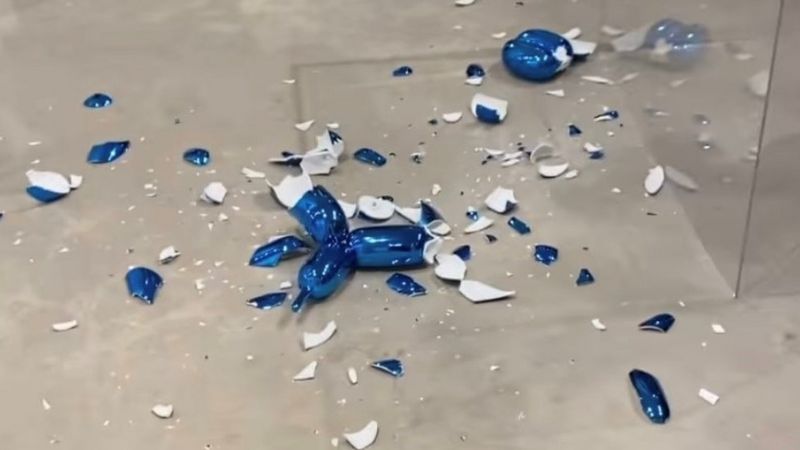 During the exclusive opening night for VIPs of Art Wynwood, a contemporary art fair that takes place annually in Miami, Florida, one of the most unexpected and embarrassing moments that have gone viral on social networks took place, after a woman accidentally dropped a sculpture valued at 42 thousand dollars, approximately 772 thousand 500 pesos.
It all started when an art collector, who has not been identified, kicked a pedestal containing a blue balloon dog sculpture by American artist Jeff Koons with her foot due to the large crowd at the event. causing him not to notice where he was taking the step.
According to the directors of the gallery, where fortunately the artist was not present, and so far he has not commented on the matter, it was all a simple accident caused by an "older woman", who at no time touched the sculpture with hands, much less intended to break it.
»There were a lot of people at our booth, he inadvertently kicked the pedestal a little, which was enough for the sculpture to fall over.
In fact, he never touched it with his hands," explained the director of the Bel-Air Fine Ar gallery in a statement.
Although he has not been the only one who has spoken about it; local artist Stephen Gamson confessed to an international media that he was in the gallery at the time of the accident that puzzled him at first, because he thought it was part of a show.
"When this thing fell to the ground, it was like a car accident brought a huge crowd onto the road."
For her part, the art consultant of the Bel-Air Fine Art galleries, Bénédicte Caluch, explained that the sculpture was insured, so the woman responsible for the incident should not pay anything for the work that had to be swept by the staff. cleaning and whose 'remains' are in a box to be evaluated by the insurer.
"It was quite an event! Everyone came over to see what was going on. Life stopped for 15 minutes with everyone around," said one of the gallery workers, before joking with an international outlet about how convenient it was to reduce pieces in the Jeff Koons collection. "That's a good thing for collectors."
A person who claimed to have spoken with the woman who caused the incident that reminds museums and exhibitors of the importance of having security fences for the works, revealed that the woman said she was very sorry for what happened and that she just wanted to disappear from the shame.